Ask a local architect about their favourite feature of Victorian homes dating all the way back to the mid-1840s, and they'll probably tell you the answer is: "Simplicity." But when we say 'Victorian', we aren't just referring to the Australian state we all love, but the Victorian era itself – the reign of Queen Victoria. Now, all through mainly Melbourne's inner city areas but also a little further out, we get daily reminders of this golden era with pockets and lines of Victorian-style terrace houses, which popped up to deal with the gold rush-inspired population boom.
Single and double storey terraced houses are widespread in the inner Melbourne suburbs including Albert Park, South Melbourne, Carlton, Prahran, Collingwood, St Kilda, Balaclava, Richmond, North Melbourne, South Yarra, Cremorne, Port Melbourne, Fitzroy, Hawthorn, Abbotsford, Burnley, Brunswick, Flemington and Kensington.
Do you love your Victorian terrace house?
If the answer is "of course", we heartily agree! And so do modern architects, who now borrow from the original era of the Victorian terrace house Melbourne-wide for new townhouse developments. The original, of course, was for the working family, in the stereotypical compact 'two-up, two-down' style – a kitchen at the back, gardens to the front and rear. Well designed for the space limitations, the middle classes lived in their own Victorian terrace house iterations, which were still simple and compact but more elaborate and ornate.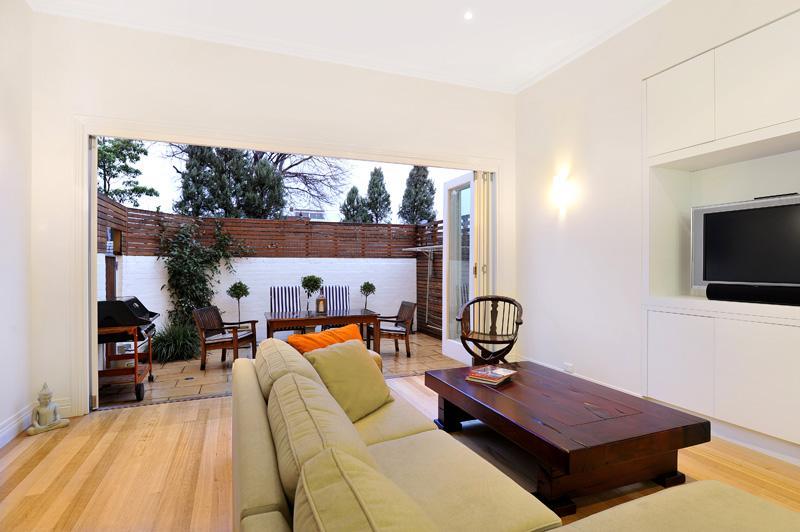 But no matter what kind of Victorian terrace house Melbourne locals just like you live in, you all use the same basic keywords to describe why you love yours so much:
It's not only cosy, but it's also cute as well
However, it's also a little chilly in here – mind the draught!
"Mind your head" too as you walk through those doors
Leave those original period features alone!
"The neighbours are arguing again!"
This wall is even more wonky than that one
Don't walk on that floorboard when the baby's asleep!
Ah, the unmistakable charm of a Victorian terrace house. Are you looking to give yours a much-needed round of renovations – or perhaps even create a better layout and some extra space for your growing family and needs by installing an extension? We think you'll love our planning & inspiration tips!
1. Keep it cute and cosy
Sure, it's pretty squeezy in there. But that's all part of the charm of this housing style – even if you're considering a terrace house extension or renovation. As you make your plans, think about all the easy ways to make your small space seem bigger – with things like lots of mirrors, compact furniture and minimalist living. If open living is your thing, consider an extension out the back. Just be prepared to compromise a little bit of that Victorian terrace authenticity if you do.
2. Keep those tiny doors (or don't!)
If you've lived in a Victorian terrace house and you're over 6 feet tall, you'll know exactly what we're talking about here. Of course, you could install something a little more modern for your terrace house renovation in order to stop all that head-bumping, but we like those original features to stand tall and proud. So how about a 'mind your head' sign instead?
3. If you go with 'new', combine it with 'old'
If you are going to bring that 19th-century home roaring into the 21st century with more of an open-plan interior, leave some of the original zones just as they are and instead floor them with natural light to brighten and warm it all up. And leave as much of the original charm alone as you can, and go full 'modern' only with one element or two – like the flooring. Another grand 'new and old' idea is to fully renovate the ground floor with an open plan plus an extension – whilst leaving the upper floor in much of its original glory.
4. Live in it for a full year
New to your Victorian terrace home and keen to renovate/extend straight away? Don't! Instead, live in it for a full year, experimenting with different colours, furniture and interior arrangements. After that, you'll have a much better idea of what should be changed, and how much of that original charm can stay just as it is.
5. Seamless 'home to garden' transition
Another great terrace house renovation idea is to add space by bringing the garden inside – and vice versa. What we mean is that a popular terrace house extension is a seamless transition from the bottom floor to the garden, meaning you keep the charm but expand and brighten the usable space for your daily lives.
6. Nail your storage solutions
If you've lived in a terrace home for a while, here's a fact: you're already the master of where to store things. There's not a lot of room in there, and we have a lot more 'stuff' these days compared to the 19th century, so when you renovate, build in as much storage as you can – never forgetting the walk-in wardrobes for those bedrooms.
Need a few more Victorian-style terrace house extension/renovation ideas?:
Eliminate draughts but remember to ventilate
Get inspiration by checking out other similar local terrace houses
Add in some soundproofing to block out the neighbours
Don't completely throw out the rustic, shabby chic, weathered imperfection look.
Fancy a terrace house renovation or extension?
If you love your Victorian terrace house Melbourne-wide, you're going to really love RFT Solutions! We make home extensions and renovations all over the local region easy, stress-free and minimally disruptive, with our well-known services including design, drafting, permits, builder's quotes and more. Take all of the mystery, stress and complexity out of renovating or extending whilst saving 10-20% on your typical costs by putting your beloved Victorian-style terrace house in the friendly hands of RFT Solutions! Give us a call today.