External house cladding is like a skin for your home. Cladding is a layer of material that covers another material, and among the most common types of exterior cladding for houses are vinyl or aluminium.
We may be talking about cladding (and various house cladding options) in our advanced 21st century, but actually it's not new at all. Of course, house cladding ideas have come an awful long way, and the types of cladding materials are now extremely advanced, but the practice dates all the way back to Egypt and the pyramids.
Architects and draftsmen are using a mix of materials, textures and colours to create feature walls and beautiful visual and textural facades for home exteriors.
Choosing the right type of cladding is not just important for new homes. External wall cladding should be factored into home extension costs, especially if the entire home cladding will be updated to blend in the extension.
The benefits of cladding are numerous.
Firstly, it's just a great layer of protection for the actual structure of your house. It's the house cladding that will take the brunt of the battering from rain and wind, but it will also insulate your home as well. Exterior cladding systems are insulators of both noise and heat.
Exterior cladding will also be an additional layer to keep noises both in and out of your home, reduce wear and tear, and there are a number of environmental benefits too.
Your home will be cooler in the summer and warmer in winter. Power consumption will be reduced, your energy bills will shrink, and you'll be doing another little bit in the fight against climate change.
And through a clever mix of cladding materials, textures and colours, architects and draftsmen will create feature walls and beautiful visual and textural facades for home exteriors that you will treasure forever.
What type of cladding should I choose?
But like any building material, all the different types of modern cladding have their respective pros and cons – and it's important to weigh up which cladding material is the best choice for your unique building project.
Here are some cladding options worth exploring:
Vinyl cladding
The great looks, versatility and low cost and maintenance features of vinyl cladding mean it's extremely popular. Made of a mix of PVC and other materials, vinyl cladding typically comes in the form of horizontally-placed boards.
An insulating material is often added to the boards, and once they're installed, you can basically forget all about painting, repairing or otherwise maintaining them. Vinyl cladding hardly ever fades or cracks, so it will last a long time in whatever colour you choose.
Vinyl's environmental credentials are also high as they are easy to make and recyclable, whilst having high thermal performance. They'll take a battering from the weather, your children's sports, and mould and mildew.
Aluminium cladding
Another very common type of cladding is aluminium, or other types of metal. The look is popular because it's shiny and ultra-modern, particularly when applied to older, tireder houses and buildings. And because it's malleable, metal cladding is versatile and easy to work with.
Maintenance is extremely low, and because moisture is not absorbed, you don't need to worry about fungi or algae. Fire is also no threat, whilst metal cladding is still lightweight. However, there are better sound insulators, even though materials can be added to improve this characteristic. Plenty of textures and colours are available though, while aluminium cladding in particular is very energy efficient.
Scyon cladding
Scyon is made from sand, cement and cellulose materials. Currently, there are four types of Scyon cladding to choose from, Linea, Axon, Stria and Matrix.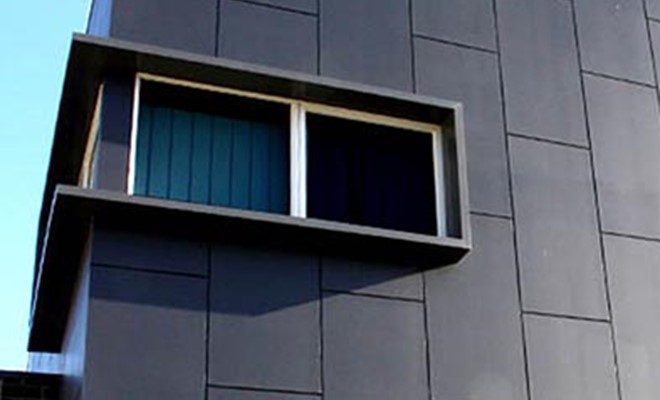 The difference comes down to the joints. Stria has a horizontal ship-lapped joint, while Matrix has a geometric, expressed joint look more associated with commercial buildings. Axon cladding is a vertically grooved cladding panel that gives a sharp and uniform appearance – perfect for a modern look.
Scyon cladding has a great natural look but you don't need to worry about termites. It's also superior to hardwoods in terms of its thermal and acoustic properties, and if you do eventually need to paint, you won't need to do it often.
Lightweight blueboard
When you say "blueboard", some people immediately get confused. It's commonly used as the word to describe cement sheet-style external cladding, and there are many types on the market. Some get their name from the blue primer, but basically, it's just a cladding system that is designed to be coated with an acrylic render.
Blueboard is light, but despite its 7.5mm sheeting dimensions, it's strong. When the acrylic coat of colour or texture is added, it can look beautifully rendered – with no need for masonry. It comes in a range of different sheet sizes, providing many options from a plain straight wall or a more decorative wall with columns and top moulds.
Builders and home renovators will also choose Blueboard because it not only looks great, it's cost-effective.
Autoclaved aerated concrete
This type of pre-cast concrete, comprised of various natural materials, first emerged in Sweden in the early 20th century. The credit goes to an architect who thought to add a little aluminium powder to the usual concrete recipe of cement, water, sand and lime. The result is a masonry unit (or a block), and just like normal construction that occurs with concrete blocks, what you get at the end is a mortared wall.
The big benefit of autoclaved aerated concrete, which also comes in reinforced panels and lintels, is the insulation properties. Hebel is a particularly lightweight high-performance autoclave aerated concrete (AAC). The magic ingredient to the concrete is a gas-forming agent, which expands the entire mixture to create extremely small, finely dispersed air pockets.
The result is aerated concrete, which is a great choice for a contemporary modern exterior, especially because Hebel can be personalised with your choice of texture and colours.
Plywood Sheet Cladding
It may have emerged in the early 1900s as a cheap substitute for solid wood, but plywood is now loved by homeowners and builders the world over. Why's that? The big benefit is that it looks great – pretty much as good as real wood, as it happens.
But it's also extremely strong – and even stronger than real wood, believe it or not. That's because the structure is cross-grained, which distributes the strength much more easier than occurs naturally. But it's also a lot lighter than solid wood, meaning that the creation of even very large plywood sheets are possible.
Plywood can also be easily curved, while wastage of the cost-effective, eco-friendly sheets will almost never occur. Plywood sheets come in various patterns, with some designed to look exactly the same as shiplap cladding. Normally, gaps are covered with battens or flashings. You can also get plywood weatherboards.
Monolithic Systems
As the name suggests, monolithic cladding systems have a seamless appearance. This sleek look has become extremely popular in high-end housing projects, with cladding designed according to very exact specifications. In the past, people suffered from leaky homes as a result of sub-standard monolithic cladding with unsuitable jointing and flashing.
However, today builders are more attuned to the manufacturers' specifications. While it results in an attractive look, ongoing maintenance is essential. The traditional monolithic system is stucco or solid plaster, or fibre cement sheet. All monolithic claddings rely on the final coat for waterproofing, and this needs to be well maintained.
Wall cladding isn't just designed to look great, it's also your home's primary defence against the weather. So whichever house cladding options win the day, make sure it isn't just aesthetically pleasing and cost-effective, you also keep the elements at bay and factor in all the other pros and cons.
When building or extending your dream home, the type of exterior cladding materials will be an important question. We hope these house cladding ideas help guide you. For expert advice, contact our building designers in Melbourne to know more about exterior cladding options.